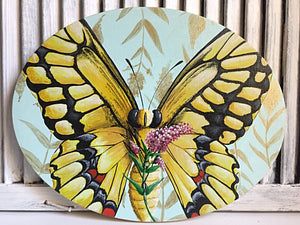 This yellowtails favorite spot to socialize  is the purple butterfly bush on the edge of the garden. 
Painting Details: 
Hand-painted, not a print
Acrylic Paint with high gloss finish 
Colors: light teal blue, black, gray, small spots of red, different values of purple, metallic gold, & white. 
Texture: smooth (wings) to textured (flowers)
Size: Oval shape, 11" x 14" 
Canvas edges are painted metallic gold all the way around, making it ready to hang.