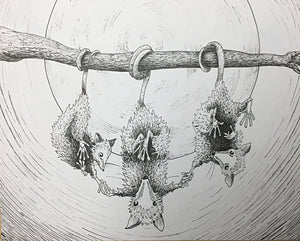 Sometimes you just have to hang in there together! 
This piece was sketched out while I was staying with my mother in the hospital, while she was recovering from a spinal injury. It is a representation of how I felt that day as I reflected on my childhood and how my mother had taken care of my brother and I an now it was our turn to watch after her. 
Prints are currently pre-order. 
Pre-orders will be shipped out around the middle of Oct. 
Originally created with hand-painted acrylic on hexagon canvas. 
Professionally printed by S&S Graphics in Tupelo, MS
Prints are signed by hand by the artist.
Ships in a clear sleeve, inside of rigid mailer. 
Matted prints are ready to display on a shelf or for framing.
All prints come wrapped in Kraft paper, tied with garden twine, and handwritten thank you note.