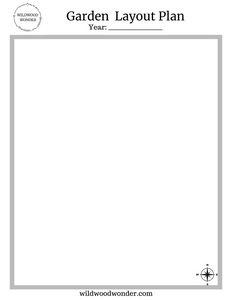 Garden Layout Plan: 
This Garden Layout Plan PDF is a place to plan your garden rows or beds.
It is the companion to the 4 Things To Know Before Starting A Garden blog post! 
Print it out as many times as you need! 
How it works: 
Once you have ordered your digital prints or cards, you will receive an email with your printable files. 

Files will be sent in PDF form. 

You will then download your files to your computer or phone. 

Print as much as you like! 
Helpful tips: 
Printing quality will depend on the quality of your printer. Make sure you are printing from a high-quality printer. 

You may want to select the photo quality option on your printer before printing. 

Print on cardstock or high-quality artisan paper. 
 Don't hesitate to contact me if you have any problems with your order!