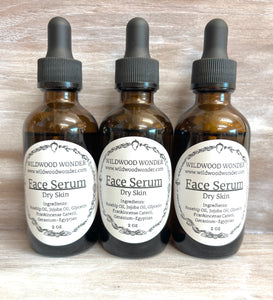 Face Serum - Dry Skin
Soothe your dry skin with our dry skin face serum. High-quality ingredients have been blended to help promote brighter, smoother skin. 
Ingredients: 

Rosehip Oil, Jojoba Oil, Geranium, Frankincense CO2, & Glycerine
-Slight/mild natural floral scent 
Rosehip Oil  Contains a wealth of essential fatty acids and antioxidants. It improves the appearance of scars, stretch marks, and inflamed skin conditions. Rosehip oil is hydrating and nourishing to dry skin and hair.
Jojoba Oil promotes healthy skin, won't clog pores, and is rich in iodine. When applied topically, iodine fights bacterial growth, which leads to breakouts. The antioxidants in Jojoba oil help soothe fine lines and wrinkles and naturally slow the signs of aging.
Geranium essential oil is often used in skincare and hair care to promote healthy skin and shiny hair.
 Frankincense CO2 is a powerful skincare remedy that supports a brighter, more even complexion.
Glycerine is used in natural skin care as a humectant, thickener, and helps bind ingredients in lotions and creams.
Wash and dry the face before using. Place two to three drops of serum into the palm of your hand and, starting in the center of the face, spread evenly across the forehead, nose, cheeks, and chin.